Bio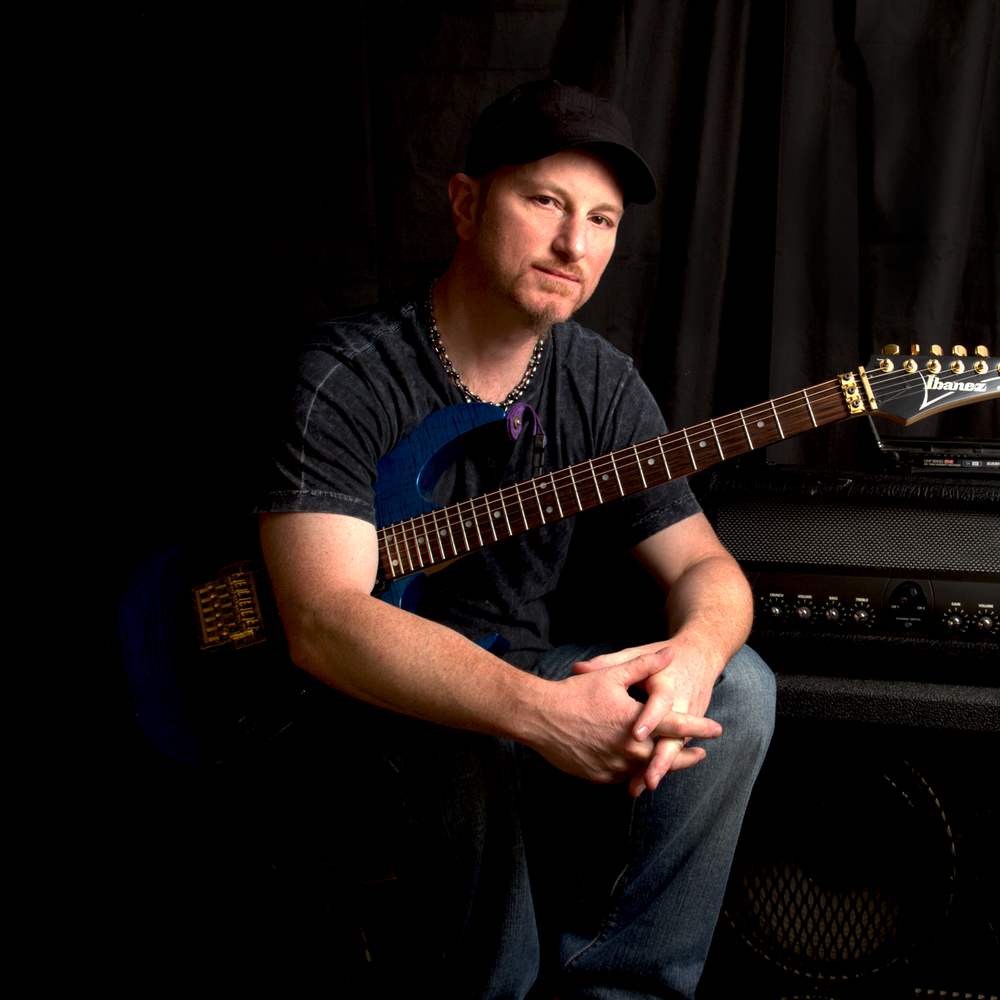 Introducing
Tom Martini
If you have seen the face with hands shooting from his eyes, pics with sunglasses, the pics of Ibanez guitars ,the Morley ads, the slightly crooked scruffy beard, and wiseass smirk chances are you already know who Tom is but if not read on...
Tom Martini was born in NJ home of the best food on the planet!, crazy drivers, and horrible traffic! 
Tom got his professional start as a solo artist when Guitar Player Magazine's editor Michael Molenda added a small but stellar review of one of Tom's songs called Distorted Voices which propelled Tom into the guitar community and spotlight. 
Tom didn't always play guitar though, as a kid he started his musical journey on trombone in 6th grade but that was not so rock and roll and he couldn't reach the 7th position so switching to drums  after seeing the great late Neil Peart set the stage for the musical journey of what was to become,was a given.  Tom took lessons  from a jazz drummer who just happened to live across the street at the time. Tom worked to become a solid rock drummer around the tri-state area of NJ/NY & Pa where he planted his feet and thus started the journey he is traveling now.
Drum influences included the amazing and  creative technical Neil Peart and the power and flash of Tommy Lee. He became a member of a local upstate NY band, Dead Givaway a popular hard rock band before finding his pathway to guitar.
Tom's interest in guitar was brought upon by the need for more out of music and as his musical creative side and song writing ability developed  so did his need for something more. His main influences include: Joe Satriani, John Petrucci, and Jake E Lee. He has too many to list beyond those but if you ever opened up a guitar magazine, yeah that sums it up!
Tom spent time in and out of cover bands but that allowed Tom to hone his ability. During that time his band Intellegent Life (yes with an "e") had meetings with top labels including Geffen Records, Eminem's management company and MTV.  They were becoming a strong band being managed by the great A-list publicist Duane Taylor (Tina Turner, Janet Jackson). Sadly Duane passed away but Tom kept writing and creating what was to become the path that would carry him into the future. Tom, being bored one day decided to play around with new images , jot names on paper, and write guitar riffs to highlight his fever for music.  Everything seemed to come together by accident though.....Distorted Voices was born!
Enter Soundmine Studios and producer Dan Malsch. Dan helped Tom find his musical voice on guitar. What was created would be found by chance by Michael Molenda, Guitar Player Magazine's editor and chief.  Molenda wrote a short but stellar review of Tom's  new guitar instrumental Distorted Voices in the 2007 Issue, and from there well you are here, reading and exploring what Tom has to offer.  Long story short major guitar brands like: Ibanez, DiMarzio, Zoom, and Morley have included Tom in their artist rosters and continue to support and allow Tom to do what he does. MTV, NFL Europe, German radio, internet radio, and countless followers have all been a part of Tom's journey. Tom continues to connect with people all over the world and through each one, Tom has found a home in the guitar community.
Past bands include: 
Dead Givaway-drums 
Planet X 
Intellegent Life 
Distorted Voices
Tom's belief is if you do what you love it becomes who you are. Tom is always willing to stop and talk to a someone about guitar, music, or just what's going on. Tom has appeared at both Namm Shows in California and Nashville, countless clubs, radio, TV, magazines, and now produces other artists when he can.
Tom's debut guitar instrumental album called Destination Red is out now! It's a collection of riff, ideas, and some pretty loud hard rock guitar that screams what Tom is about.
Please visit often because Tom's musical journey is just getting warmed up!